Premium Grade Active & Yoga Wear
Premium Grade Active & Yoga Wear
Activewear
Activewear Bali manufactures luxe quality leggings and sports tops using premium-grade recycled fabrics imported from Italy, the U.S. & Korea, offering great body enhancing attributes with different degrees of compression.
Our speciality is the production of custom made designs produced from sustainable fabrics to clients' specifications in both plain colours & high-resolution digital prints.
With over 30 years of experience in the garment manufacturing industry, we have provided hundreds of startups and established brands with the tools and resources to gain independence, running their own sustainable businesses.
Being the only bonded tax-free company on the island allows us to save 40% on imported fabric costs, making us the No.1 choice for brand owners seeking a low-cost sustainable carbon-friendly solution.
Once you've decided on your shapes & selected your fabrics, orders are being dispatched in just four weeks.
Get started here
Activewear
Virtually all of our fabrics have been upcycled from salvaged ocean waste, such as reclaimed Nylon fishing nets & discarded plastic bottles, keeping our oceans much cleaner & biodiversity healthy.
By selecting to work with us, you can rightly claim your swimwear is sustainable & Eco-friendly, offering a low carbon footprint.
We import our fabrics from Italy, such as Vita, blended with Xtra Life Lycra & ECONYL®, as well as REPREVE™ from the U.S.
MOQ - Minimum Order Quantities
Activewear
We offer a low MOQ of 30 units per style, 5 per size & colour, with a total amount of 300 units or 150 legging & sports top sets.
For example, six designs in several colours &/or prints in up to 5 sizes.
Read more about our minimum orders
The first job must be to price your collection. All we require are the designs you want produced, made in what fabric/s, either in plain or print. That's all; it's that simple.
We offer four easy ways to price your collection.
If you're selecting from our latest 2023 Catalogue or mixing up some of your own & some of our designs, select your fav shapes & add your selected codes.
Download & fill in this form
In 2 to 3 days, your receive our best wholesale prices, with questions answered.
Notes
Our prices are all-inclusive of non-branded accessories with one logo pressed to the inside back of each article.
Provide as much information as possible; we all want to see sample collections approved the first time around as remakes can be both time-consuming & costly.
In most cases, complex tech packs are now no longer required.
As mentioned, owning the only Tax-Free license in Bali on the import of high-grade recycled fabrics saves us 40% on production costs. Every other Bali manufacturer must add these costs making their invoices that much higher than ours, even though they will price using local lower grade activewear fabrics.
You're in this to make money, so take the time to compare our prices to another Bali Active producer using imported fabrics to know the difference in price.
Note
An invoice for 300 units will only purchase 200 from any other Bali Active supplier. Also, others will price using higher even they will add lower grade local fabrics.
Examples of our all-inclusive Prices
Printed Tops & Shorts $18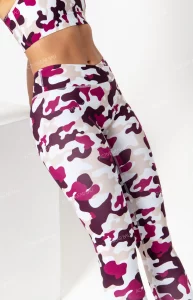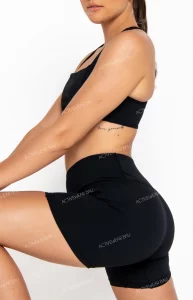 Printed Tops & Shorts $18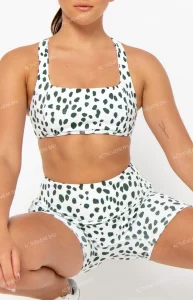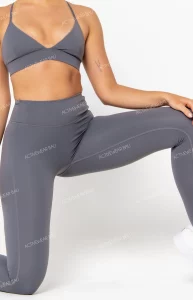 The prices above are produced using recycled high-grade Italian, American & Korean Power fit fabrics.
Note
Expect to mark up approx. 4 X or 400% our price to your retail price.
Our core business is the production of custom made Active/Yogawear to clients' requests. Whatever custom design you entrust us with, our job is to ensure that it will handle even the most extreme workout & at the same time provide your customers with the correct amount of compression & flexibility, looking good & feeling great on.
It is imperative that specialized machines are used to assemble & stitch such sections as elasticated ankles, inner seams, around the waist, and under the bust, ensuring you never have any issues such as seams breaking or puckering up.
Patterns are created digitally using 2D AutoCAD software, far more accurate than traditional paper patterns.
We work to International Body Sizes, be sure to check out our Size Guide
2023 Ready To Go Collection
Our latest collection of ready to go designs was assembled with our in-depth knowledge of what's trending, selling hard & fast for the summer 2022 season.
Any style can be produced in any fabric, colour, or print and be altered, for instance, making the waistbands higher/lower, adding pockets or mesh lining, etc.
If you're seeking inspiration, see our video below of some of the styles shot on the models &/or download the Catalogue inc prices here
We hold the largest stocks of ECO-On-Trend textured fabrics in Bali, over 30,000m ready to cut on demand.
We Digitally print using a super soft imported Luxe American Recycled fabric.
With prices in hand & payment made, we mockup your styles, colours or prints free of charge. A great way to see what your final collection looks like on a 2D model.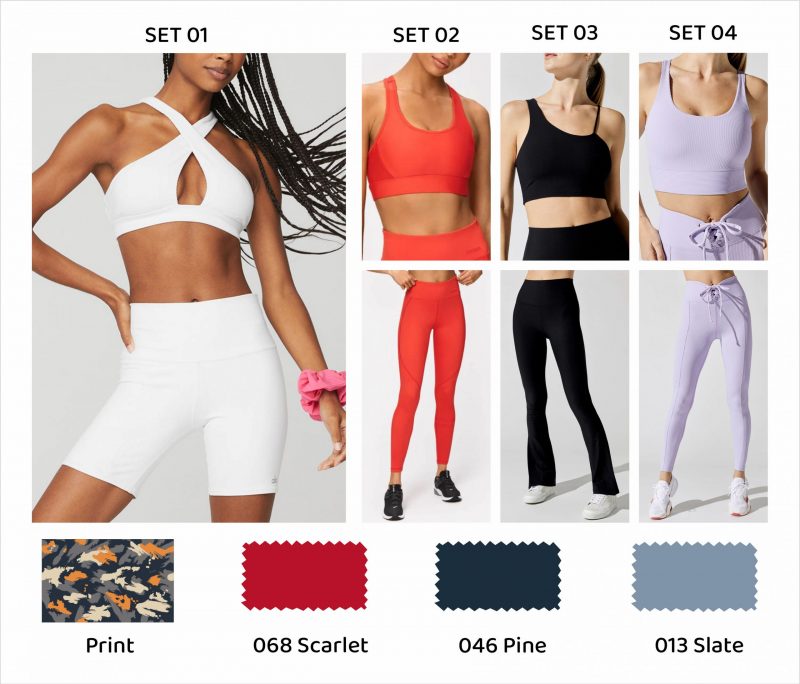 Above handover, Mocked-up below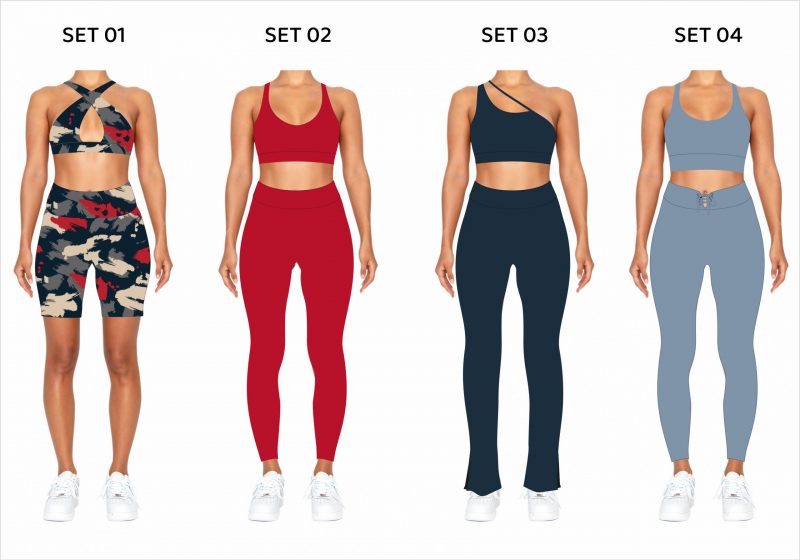 Any starter pack offers you a huge advantage in knowing the quality you can expect your orders will arrive & how well our activewear fits the body.
Inside each pack, we have added some elasticated jacquard and additional heat presses, both of which can be branded + a swatch of each fabric on our website & their corresponding laser copy colours cards.
Feel the different textures of each fabric, know the amount of compression they offer & see all the colours in stock or to be imported.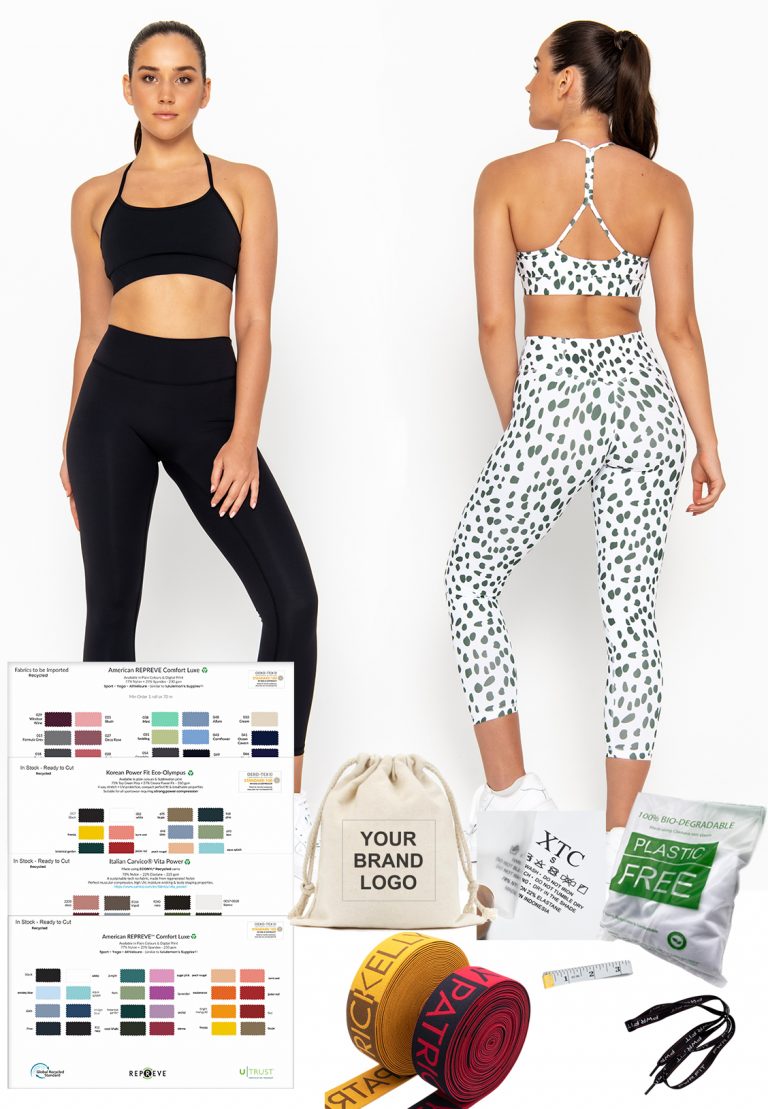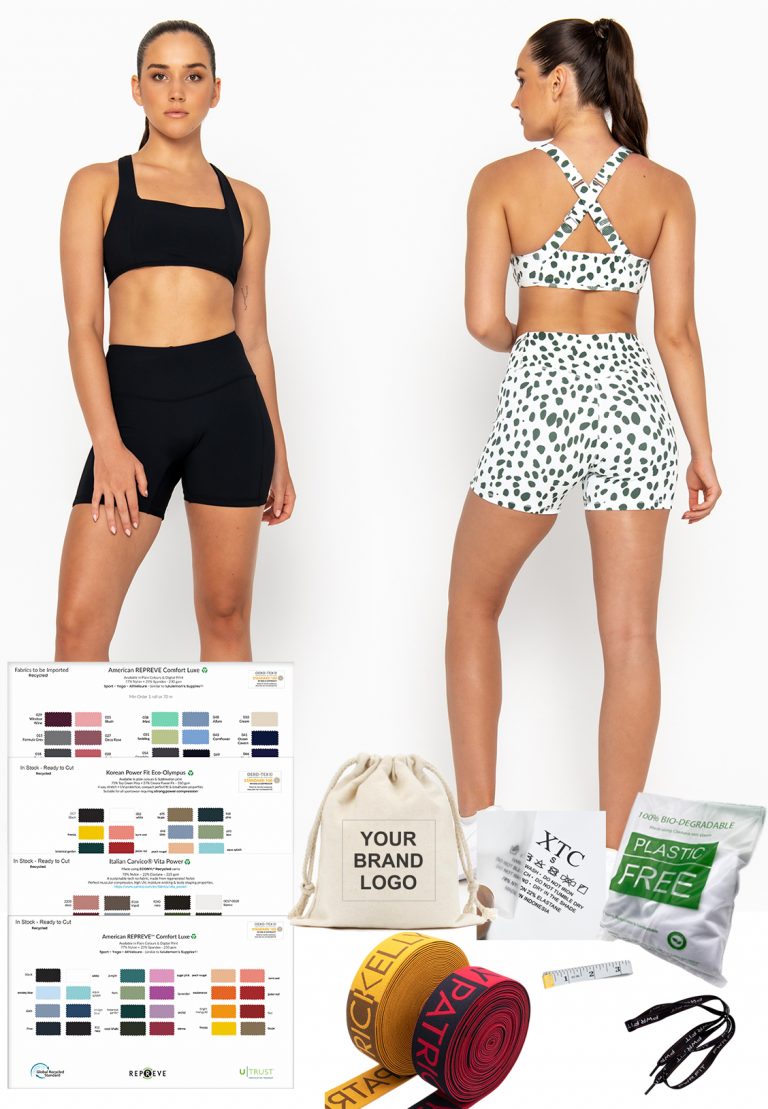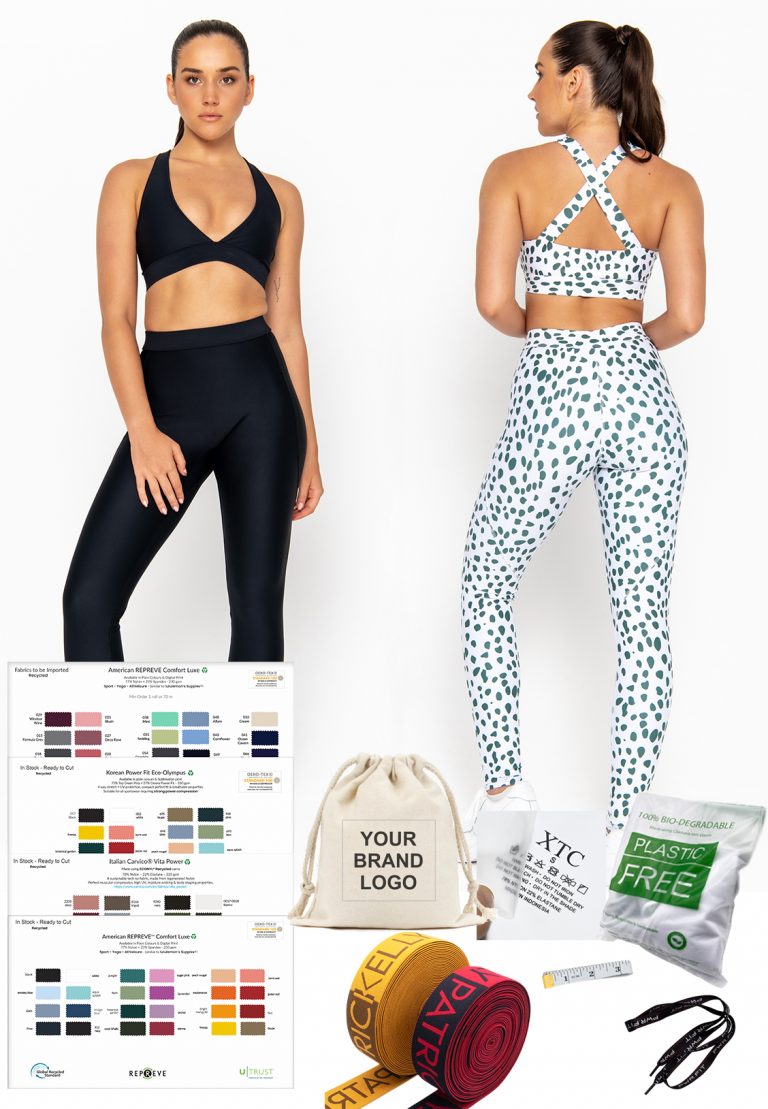 A must for designers!
We offer three packs: Active, Swim & Natural.
Each pack includes one real swatch of each fabric displayed on either website. With any pack to hand, you'll be able to feel each fabric & its textures as well as select the colours much clearer using the laser copy colour cards as a reference.
Purchase a Fabric Pack