Run a sustainable Activewear
brand from scratch
Start Yours Today!
Run a sustainable Activewear
brand from scratch
Start Yours Today!
Sustainable, Ethically made Activewear
Activewear Bali established 25 years, a division of King Trading – the leading manufacturer of sustainable, custom-made Activewear in Bali.
Price: Owning the only Tax-Free License on the import of high-grade fabrics, we save the 35% tax all other Bali Activewear producers must pay.
Quality: Whether you're a start-up or a running brand, expect the same quality as what we produce for 108 Sportif, Sisterly Tribe, Rika Active
Speed: By selecting from our stock colours, your production orders will be ready for dispatch in just four weeks.
Sustainability: Our production chain incorporates up-cycled fabrics from salvaged fishing nets, discarded plastic bottles, eco-friendly dyes, and biodegradable packaging.
We give back: As part of every order we make, we donate to Bali Street Mums, an organization that provides education, health, and better living standards to mothers and children who scavenge their living from garbage dumps in Bali.
We are here to assist with a free phone consultation to clarify anything unclear.
If your dream is to run your own sustainable, luxe quality Activewear brand, then we ready to make that a reality
Get started in 3 easy steps
1. Selecting Your Designs
The first step in creating your Collection is deciding whether to use your own custom designs or some of our ready to order ones.
2. Selecting Fabrics, Colours and Prints
We hold the largest Collection of imported luxe quality fabrics in stock, some 30,000m in 83 colours imported from Carvico® and ECONYL® in Italy, REPREVE® in the US and POWER FIT from Korea. ready to cut at a moment's notice. Any colours that are not in our stocks, we import them in via air on a weekly basis to our facility.
For those seeking to add high-grade prints to their collection, we offer both a digital print on Nylon & a sublimation print on Polyester service.
4. Pricing your Designs
Once you have your designs in hand and have decided on your fabric, colour, and print options, you are ready to cost your Collection.
"Love your body, love the planet"
The planet's resources are not infinite. Because of this, we use certified recycled fabrics in virtually 100% of our products, upcycled from salvaged fishing nets and plastic ocean waste for the protection of our oceans and marine life.
We use eco OEKO-TEX® certified dyes and packaging made from cassava starch. This offers a low carbon footprint production cycle allowing you to rightfully claim your brand to be both environmentally friendly and sustainable.

With the only Tax-Free License in Bali, we are able to import high-quality fabrics without paying the 35% tax that all other Bali Active producers are required to pay. Look no further if you're looking for high-quality products at a low price.
The brands we work with mark up our prices by at least 4.5 times; for example, a legging that costs US$19.00 will retail for US$85.00.
Ultimately, you are in this to make money, so check our prices with any Bali Active producer and request they use imported fabrics, not locally sourced, low-quality fabrics.
Example prices below all use high-grade imported recycled fabrics
Custom Designs – We offer a low minimum order of 300 pieces per bulk order, 30 pieces per style with 3 pieces per size, color, or print.
We now offer top-up orders of 150 units, 20 pieces per style, 3 pieces per size, using your current designs.
Ready Designs– 150 per bulk order, 20 per style, with three per design colour and size.
We are happy to mix up some of our designs with some of yours; the MOQ is the same as for custom designs, 300 pieces per PO.
Our core business is producing custom-made Active, Yoga and Swimwear designs to clients' requests. Activewear and Yogawear will be produced using fabrics that offer different degrees of compression and flexibility as well as excellent moisture-wicking properties. You'll find that the fabrics we offer will handle the most extreme workout whilst at the same time looking great and comfortable when worn, suitable for the gym, yoga or everyday athleisurewear.
Our 2023 Ready to Order Collection was curated based on the best-selling shapes and what's trending well into Spring 2023.
Any style can be produced in any fabric, colour, or print and be altered, for instance, making the waistbands higher/lower, adding pockets or mesh lining, etc
To set up your own Sustainable Active or Yogawear brand, these packs offer the tools and resources you'll need to create your own individual Collection, looking great on any website or store. They have helped many young entrepreneurs launch their own brand from scratch. A fast and inexpensive way to know the quality you can expect as well as how we fit and grade.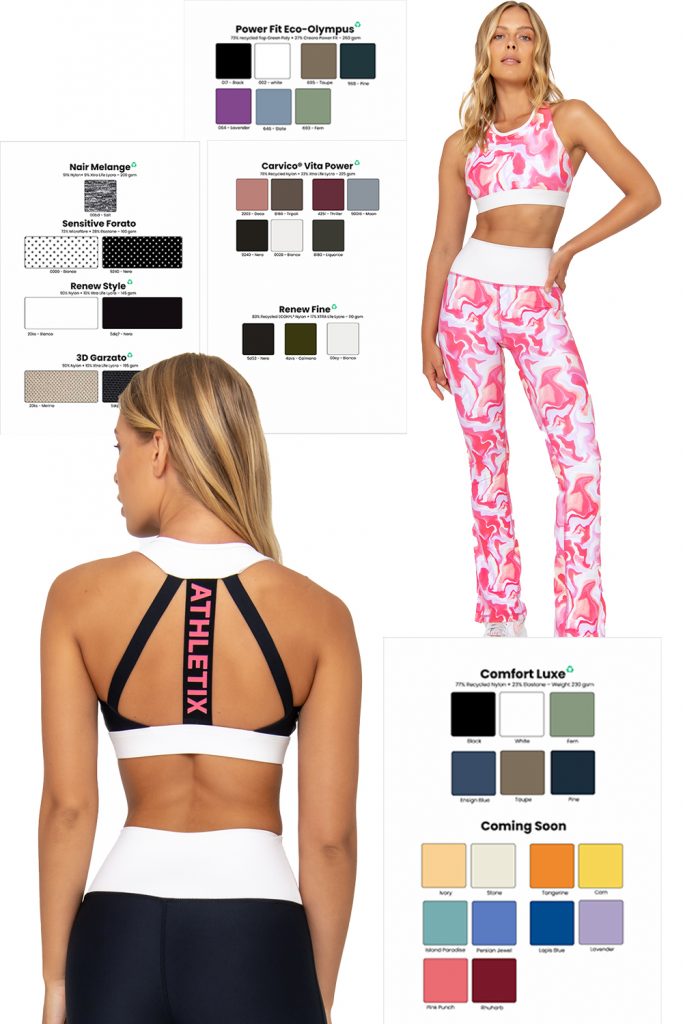 Each pack contains one real fabric swatch of all of the fabrics on our website, allowing you to feel their textures and select your colours using the corresponding colour cards.
If you have any questions, please do not hesitate to contact one of our specialists for a free phone consultation.
You may find it helpful to download our Guide, as a reference on the call.
If you have any questions, please do not hesitate to contact us. Please complete the following form: