Easy steps on how to create a
Sustainable Activewear Brand
Easy steps on how to create a
Sustainable Activewear Brand
Your Own Brand in 8 Weeks
We have produced custom-made Active & Yogawear for over 25 years to clients' requests. The fabrics we incorporate into your designs are sustainable & recycled from REPREVE® in the US, Carvico® & ECONYL® in Italy, Power Fit from Korea, and our speciality blends. Our mission is to manufacture Activewear at the lowest possible price, to the highest quality, ready for dispatch in the shortest possible time.
By integrating high-grade sustainable, recycled fabrics into the production of premium-grade Activewear, we reduce our carbon footprint by up to 80%.
Sustainability
We all know that the planet's resources are limited. That's why we use recycled fabrics produced using salvaged fishing nets and plastic ocean waste, helping preserve our planet and the marine life we all depend upon.
Our dyes are OEKO-Tex certified & orders are packed in bags produced from cassava starch that degrades in 24 hours in contact with water.
By selecting us as your partner in fashion, you can rightly claim your brand to be environmentally friendly and assembled in a sustainable, earth-friendly manner.
If you haven't already done so, download the guide in the top bar to find mostly all the answers you seek. For quick answers, refer to our FAQ, or contact us at the bottom of this page with any questions you may have.
Being the only bonded Tax-Free company in Bali; nobody beats us on price. We save 35% in production costs when importing fabrics, which all other importers in Bali must pay & add to your costs.
All other producers on the island use lower-grade, locally sourced fabrics.
Note
Sales of sustainable Activewear increased 30% year on year in the first half of 2023. We aim to assist you in your dreams of owning your own Luxe Active or Yogawear business and enjoying the financial freedom that comes with success.
We Give Back
We make monthly donations to Bali Street Mums, a charitable organization run by Kim from NZ that provides a safe environment for mothers and children who scavenge their living from garbage dumps. Children are especially susceptible to exploitation by sex traffickers and life of misery.
You can contact Kim directly on +642102997784
You can read more in Tax-Free & Ethics.
Below are examples of our prices, adding recycled imported fabrics.
Expect a resale value of 4.5 times our price. For example, a legging costing US$19.00 will retail in the region at US$85.00 + As you're in this to make money, good business practice is to compare our price with any other, ensuring you request they use higher-grade imported fabrics rather than using lower-quality local Bali Active fabrics. 
An example order of 300 units with us using imported recycled fabrics will only buy 200 units from any other Bali Active manufacturer.
You're in the right place if you're seeking top-notch production at the lowest possible price.
We all know that the planet's resources are limited. That's why we use recycled fabrics produced using salvaged fishing nets and plastic ocean waste, helping preserve our planet and the marine life we all depend upon.
Our dyes are OEKO-Tex certified & orders are packed in bags produced from cassava starch that degrades in 24 hours in contact with water.

As a first step, we estimate your prices. All we require are your designs & fabric selections, plain or printed. You may add your own customs, our ready-to-order ones, or a combination of both. Only after you approve our prices do we need to know the exact colours & or prints you wish to produce them in.
With our wide array of colours and combinations of possible designs, your final collection can easily be as iconic as any other swimwear brand.
2. READY DESIGNS
You can see our latest 2023 Ready-To-Order designs here. Select the styles you love and add them to this form to request samples or place an order. 
Take note: You may also edit our designs, for example, making the waistbands higher/lower, adding pockets or mesh lining, etc., for a fee of USD 30 per article.
3. MIX AND MATCH
You can combine some of your custom designs with some of ours. Once done, please email us your screenshots and our product codes. 
See an Example Handover
Once received, in 2 to 3 working days, you'll hear back from us with our most competitive price for a premium quality product.
Read more about how to get started.
Many of our clients like to incorporate some of our designs into their custom shapes. In this case, please send us your request in an email along with screenshots of your custom shapes and our design codes.
Our minimum order quantity is 300 articles (for example, 150 Sports tops & Leggings), 30 per style & three pieces per size & colour.
If you're requesting any design to be produced in three colours, the MOQ is 50 units per design, six pieces per size & colourway, & 500 units per PO.
Designs with more than three colourways we don't accept.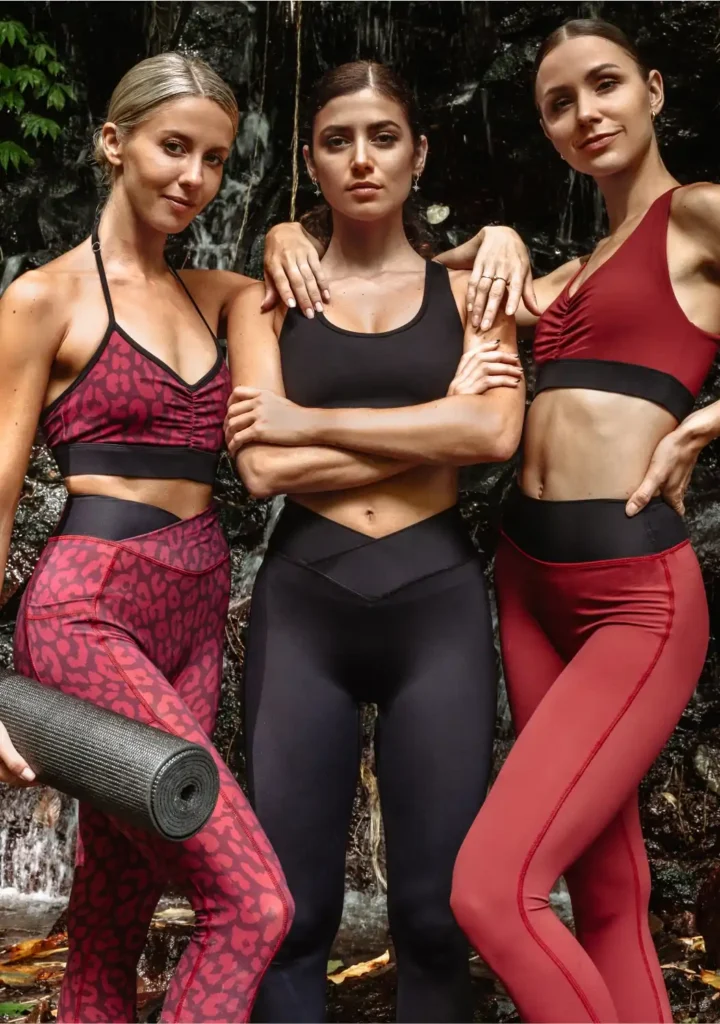 When selecting your fabrics, check the colours we have in stock for each fabric, as having the ability to place orders as & when you need them will be crucial to our success. Selecting from stock colours allows us to cut orders as soon as we receive your PO.
There is no minimum order quantity for stock colours, so you may add more to your order than for colours that need to be imported.
We have over 30,000m of recycled Italian, American, and Korean fabric in over 80 colours. This allows us to cut your order the same week we receive your purchase order. 
We offer fabrics with varying compression degrees depending on the market you're selling to. Activewear brands, for example, require fabrics with a high degree of compression, such as Eco Olympus. Yoga & everyday wear or Athleisure brands require more flexible fabrics, such as Comfort Lux or Nulux.
All plain colour or print requests are imported in 70m rolls & must be used up in your production PO, limiting the number of colours you can add compared to working with stock colours. Stock colours have no MOQ. 
70m produce approx. 45 Leggings & Sports Tops Sets
Adding custom prints to your collection is much simpler than most people realize. Many of the brands we produce love working with prints. All print requests are handled overseas on Italian MS print machines are superior to anything in Bali.
All fabrics can be printed except Vita Power, which is only available in plain dye.
Prints are easily found on sites such as Shutterstock & can be purchased for just a few dollars. Add a few words to the Search bar describing the print you seek, for example, abstract prints & from the drop-down menu on the top left side, select Vector format & you will find something like this. 
For USD 30, we produce a 30cm strike-off in approx seven days, sent to you for your approval.
By adding prints, you'll see your collections come to life with colours that never fade in contact with salt water or chlorine. 
Print Timelines
Prints normally take 4-5 weeks to process & arrive.
Read here how to add gorgeous prints.
We assemble your designs using speciality machines to ensure they fit like a second skin and have all the desired body-enhancing properties.
We needle stitch 5mm seams, following each design's contour.
Our core business is producing custom-made Active Yoga and Swimwear.
We installed machines designed to handle just one section of each part of each design's construction. This ensures that, for example, the ankle stitch will never gape when stretched & the correct degree of elasticity under the bust and around the waist.
When selecting your fabrics, choose the fabric with the correct compression and flexibility for your brand's target activity. Get this right, and the final products will handle the most extreme workout, looking stylish and comfortable when worn and suitable for the gym, yoga or everyday Athleisurewear.
If you need assistance with fabric choices, contact us & one of our Activewear specialists will get back to you to clarify anything unclear.
2024 Ready-To-Order Collection
If you need some inspiration, we have an excellent selection of ready-to-order designs shot in January 2023, selected from our best-sellers and our knowledge of what will trend in early 2024. All we require are the codes of the designs you love & the fabric, colour, or print you want them produced in & you are all set to begin.
We then heat-press your custom logo onto the inside and back of each piece, making our designs individually yours. Any design can be produced in any fabric, colour, or print and can be altered, for instance, by increasing or decreasing the length of a legging or the waist, adding mesh panels etc.
The Activewear 2024 Ready to Order Collection includes our best-selling shapes and the latest trends.
Hot News
We will release our latest collection in August 2023 for Sprint Summer 2024.
Pick the designs you love & your collection is ready to sell.
Any style can be produced in any fabric, colour, or print and altered, for instance, making the waistbands higher/lower, adding pockets or mesh lining, etc.
By selecting one of our starter packs, you'll know our products' quality and how we size our leggings & sports tops via a simple fitting. If your brand requires strong compression, select Eco Olympus. If you desire more flexibility for lighter workouts, yoga and everyday athleisurewear, choose either Comfort Lux or NuLux, our latest edition offering a butter-soft hand feel, almost identical to the latest LuLulemon fabric.
Each pack contains one real fabric swatch of each fabric on our website, along with its corresponding laser copy colour card. It also contains some elasticated jacquard used to add your brand logo under the bust and around the waist.
In our experience, brands that purchase a starter pack move faster to sampling and make better fabric choices.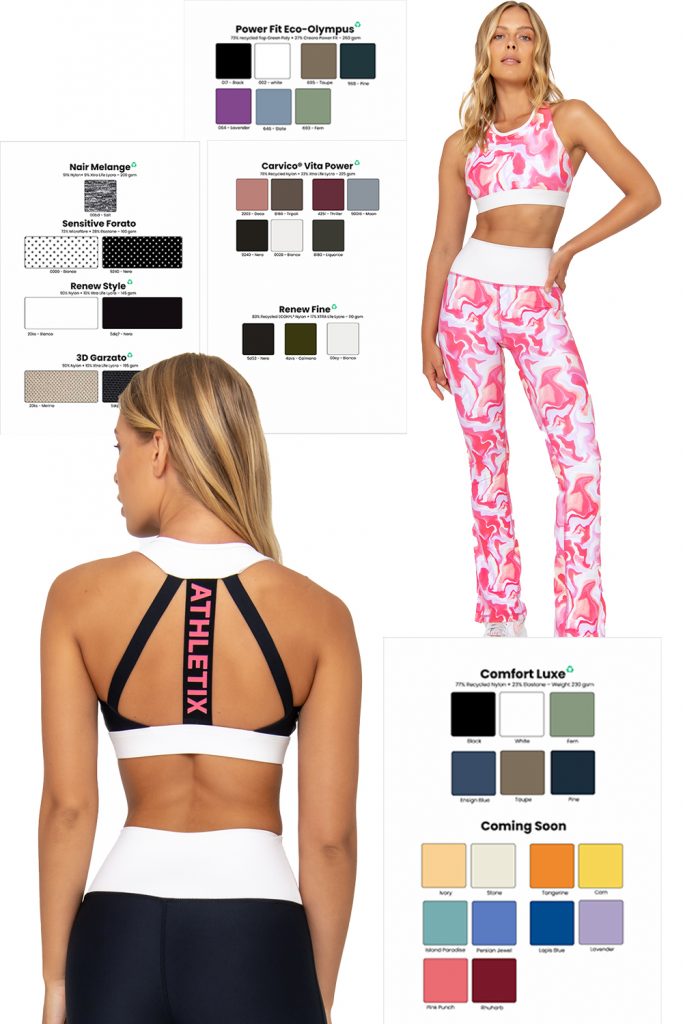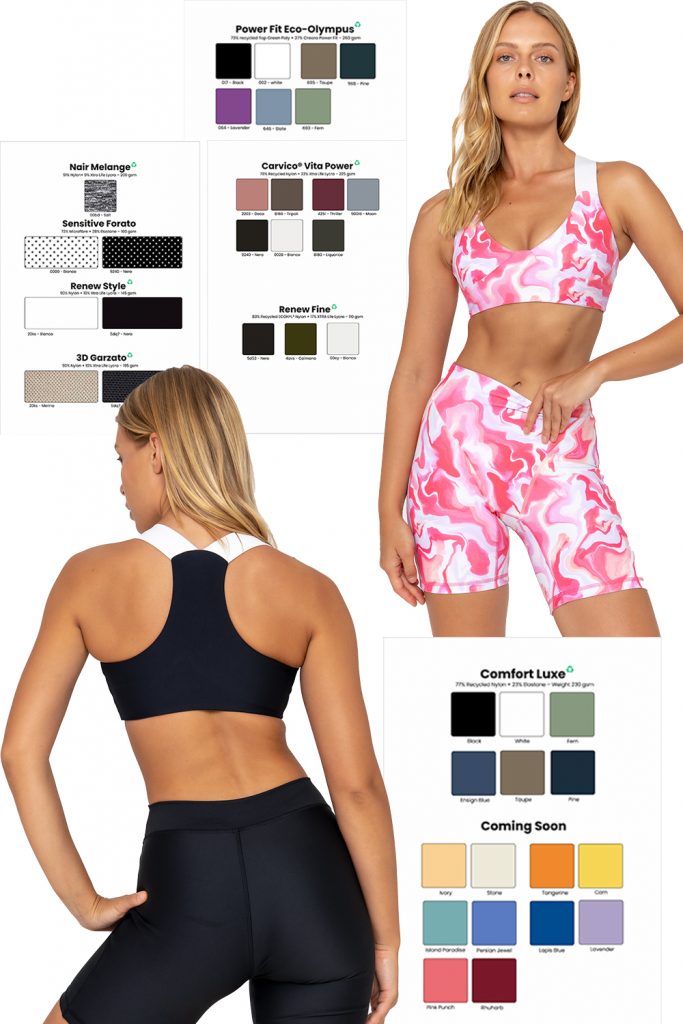 To assist you in your fabric selection, we have assembled some real fabric swatches allowing you to experience the hand feel & texture of all the fabrics on our website.
When it comes to sports apparel, fabric plays a huge role in how the final products fit & work for the activity you are selling into. With a pack to hand, you can test the compression & flexibility of each fabric on our website and make the correct colour choices using the enclosed corresponding laser copy colour cards. This is a simple and cost-effective way to be 100% clear on the fabrics we can add to your collection.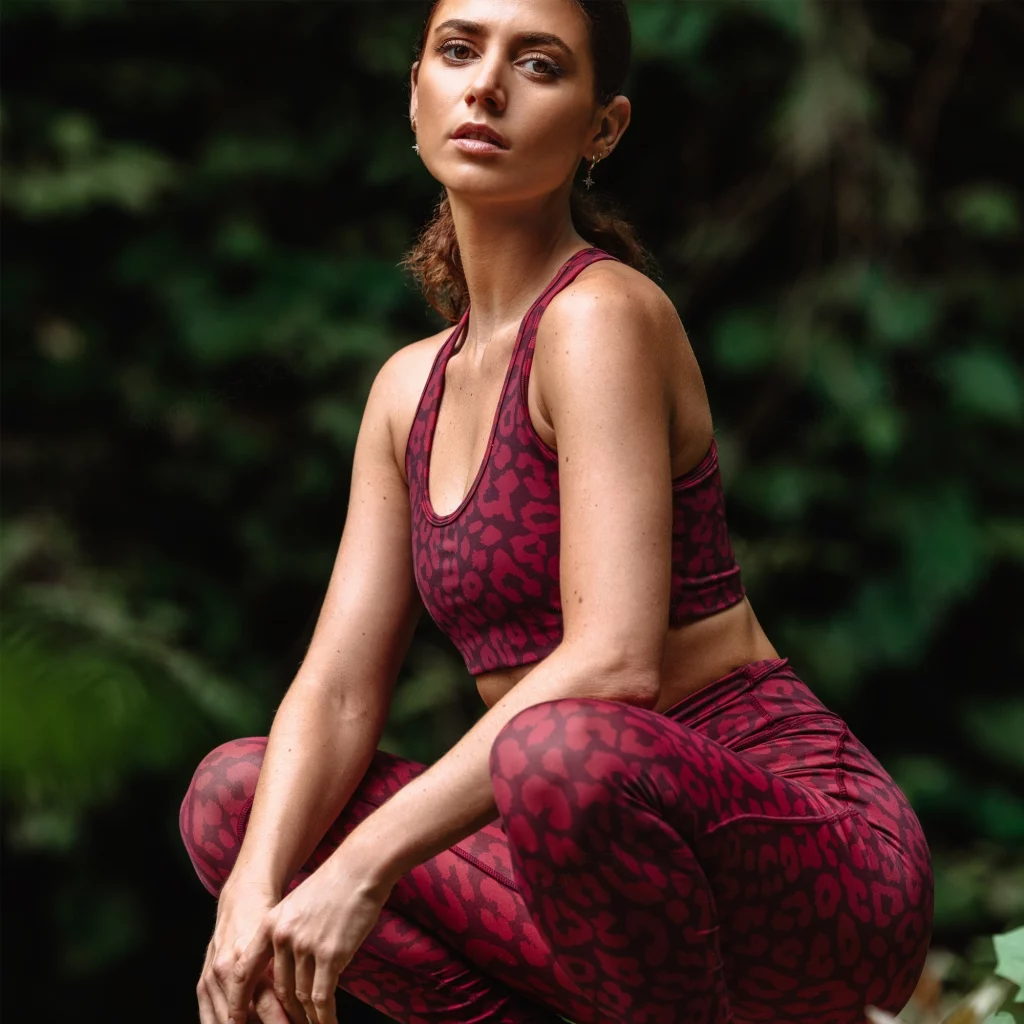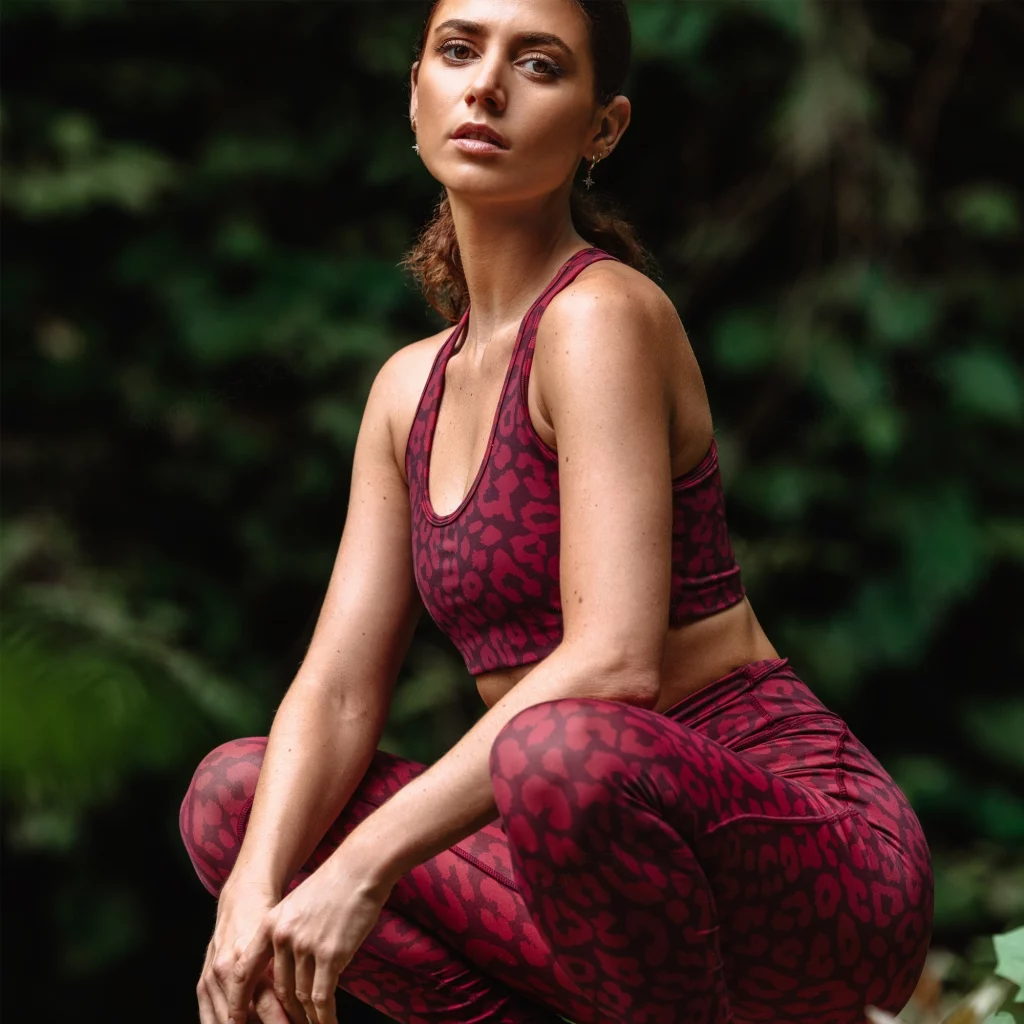 Please email us if you have any questions or if anything above is unclear, and we will clarify. To assist us with your inquiry, add as many images, photos, specifications, or screenshots as an attachment as you like, adding some notes on the side. 
If you're in Bali or planning to visit, drop in for a chat with our team and a tour of our facilities. You'll see how our sampling studio, production facility, quality control department & speciality 2D Auto-CAD pattern-making studio.
We're just 30 minutes from the airport, Canggu & Seminyak.