All orders are constructed using speciality Activewear machines to ensure production orders meet the highest export quality standards possible. Working on dedicated machines, we add elastic around the ankles, overlock double or triple stitch inside the seams, and add elastic around the waist and under the bust to ensure flexibility & strength.
Whatever activity, you'll never experience issues such as seams breaking or cracking under any workout. Over the years, we have developed a tried & tested production cycle to the point orders are ready for inspection in our quality control department.
As we work with international body sizes, be sure to check our Size Guide
Production Timelines
If you're selecting fabrics & colours from our stocks, bulk orders are being dispatched in just four weeks from the day you pay. When selecting, we import your colours & or prints; contact us & we'll provide a time on request.
Finally, at the end of each production cycle, we add ECONYL®, CARVICO®, REPREVE™ & Power-Fit hangtags, depending on the fabrics used.
EXAMPLES OF READY TO ORDER DESIGNS
SS/23-045 & SS/23-046
Scoop Neck Top Cross Back Straps & Full Length Panel Leggings
Vita Power
$17.40 & $23.90
SS/23-049 & SS/23-050
Square Neck Top with Adjustable Strap & Full Legging with Piping
Vita Power
$17.40 & $22.90
SS/23-056
Double Straps Cross Back Body Suit
Vita Power
$22.50
SS/23-041 & SS/23-042
Panel Underwire Top & Panel Flared Legging
Vita Power
$17.40 & $23.90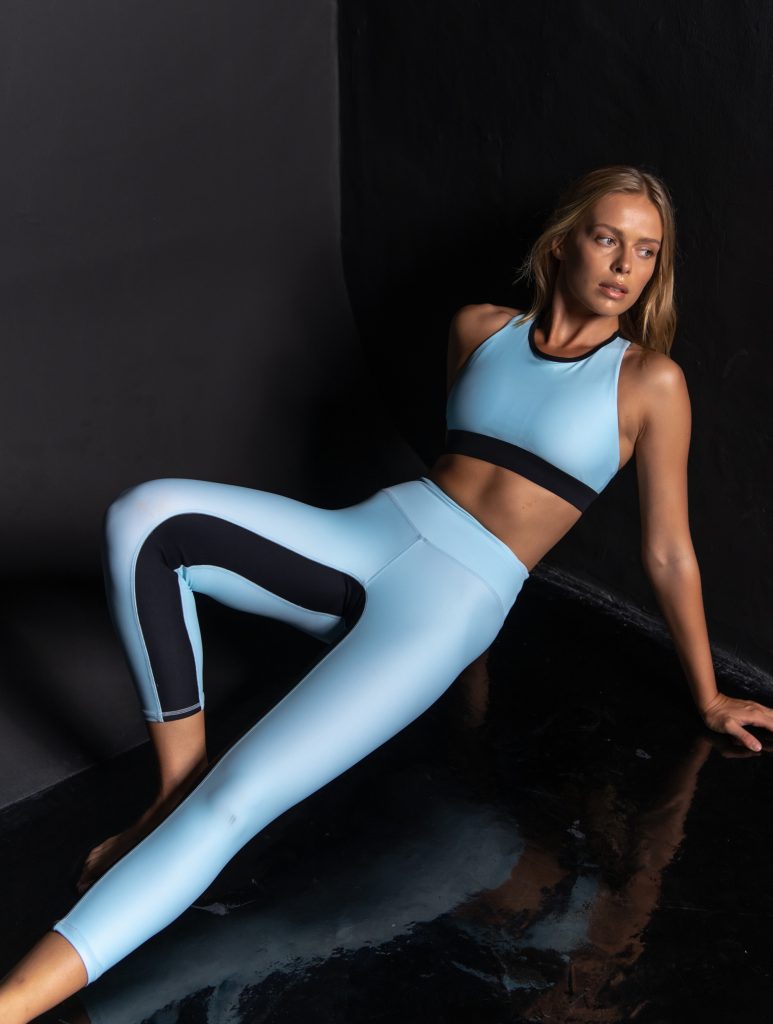 Custom Designs – We offer a low MOQ of 300 pieces per PO, 30 per style, 3 per size & colour or print.
Reorders for the same designs, 150 pieces per order, 20 per style, with 3 per size & colour. 
Ready Designs – 150 per PO, 20 per style, 3 per design colour & size.
Mix & Match – if you're selecting to mix & match some of our designs with some of yours, then the MOQ is the same as custom designs.
SAMPLES APPROVED - LET US BEGIN
Once you're ready to place your bulk PO, unless you requested two sample sets, the approved samples must be sent back. 
If you only requested one set, they must be sent back via courier to be used to check your fit notes against your production PO. This will add courier fees & import taxes. 
However, should you have requested we produce two sets, one will remain in our office and be used to start your production order. As we only charge wholesale for the second set, making two sets in most cases costs approx the same as producing one, saving on courier fees and import taxes as well as a week in your production timeline.
On our Delivery page, we go over how to send packages to us.
Should you not have priced up your designs or begun sampling, then our Get Started page has all the info you'll require.
SELECTING PLAIN COLOURS &/OR PRINTS
As you are aware, selecting the correct fabric with the right amount of stretch & compression will be one of the most important decisions you'll make
We offer several different degrees of compression, allowing you to select the most suitable fabrics for the market you're selling to. For example, Yoga & Athleisurewear brands require one that offers good flexibility, with Activewear brands requiring greater compression.
We keep our stock levels at around 30,000 meters in 73 trending colours, making selecting your colours from stock fabrics the best place to start.
As the season of 2023 approaches, we see an increasing trend for prints. The quality of our digital and sublimation prints is outstanding, with vibrant colours adding a real splash of colour to your collection. We handle print requests for around 30 brands every month, many seeing sales increase month on month.
Read how easy it is to add prints
As soon as you're clear on your custom or ready-to-order designs in the colors and prints you want them produced in, you're ready to order.
Fill in our Bulk Order Form, and we'll send you an invoice. 
For those who wish to move directly to bulk without producing samples, saving costs in sampling and time, please complete our Direct Bulk Form & send over via email or WhatsApp
See some typical bulk invoice values
Custom Branding & Accessories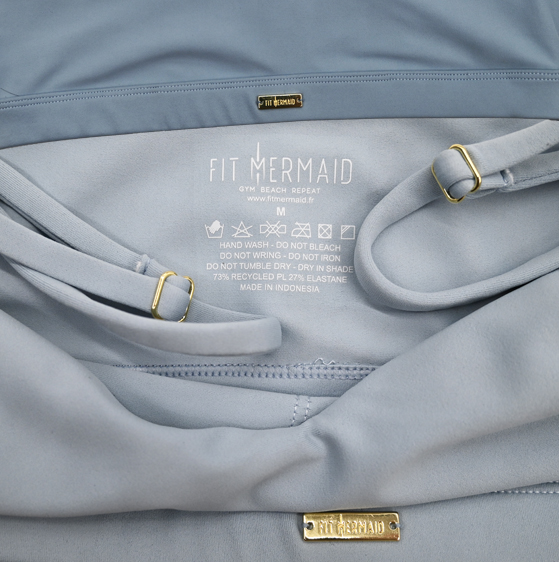 Adding high-quality accessories to your collection will play a huge role in your brand's final look, increasing sales & ultimately, your success.
We add your brand logo & sizes to your care label, which is heat-pressed into the inside back of each article. You may also request to add additional heat presses to, for example, the front of any sports top or down the side of a legging. Further, we can custom brand elasticated Jacquard as Nike does under the bust or around the waist.
Any delays in your production order will most likely be caused by the importation of heat presses, branded accessories, and plain or printed fabrics. Therefore, we recommend working with your activewear merchant before starting your bulk order.
Read more on Branding & Accessories.
In House & Independent QC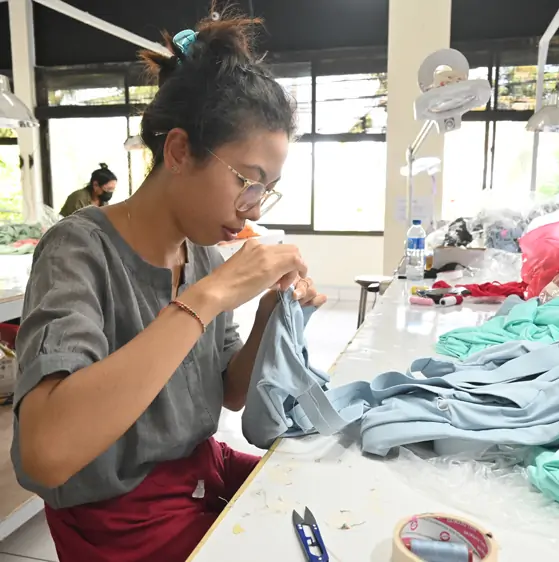 Prior to dispatch, all activewear production orders undergo three levels of quality control. Our team will never dispatch an order until the production quality matches your approved samples. Nevertheless, many brands request independent quality control just to be on the safe side. Given the minimal cost compared to the value of the goods, it is well worth considering.
Rebecca Jane from the UK has a specialized team in Bali who check production orders daily. In the rare event that her team discovers an issue, Rebecca will contact you directly.
In addition to her fashion design degree, she worked as a designer for Victoria's Secret.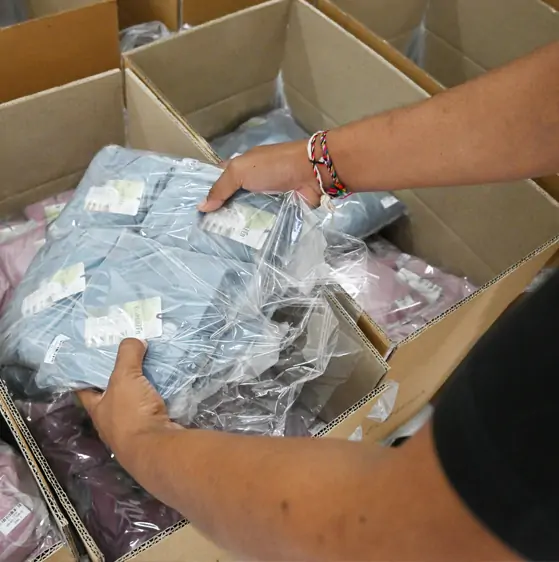 All orders are individually packed into bio-degradable bags boxed by codes, colours & sizes, ready to sell the moment they arrive on your doorstep.
We dispatch orders via DHL or FedEx using our company account or yours. From pick up to delivery allow 4-7 working days.