Our speciality is the production of custom Active, Yoga & Swimwear, incorporating premium grade imported recycled fabrics. As we have been doing this for over 30 years, we have a tried and tested method from costing custom designs to sampling, production, and delivery to your door. While we produce a ready-to-order collection twice a year that is also very popular, the production of custom designs remains our primary business focus.
We are always busy with production orders, so please allow more time when starting. Once you are on board with us, sampling and production times will decrease.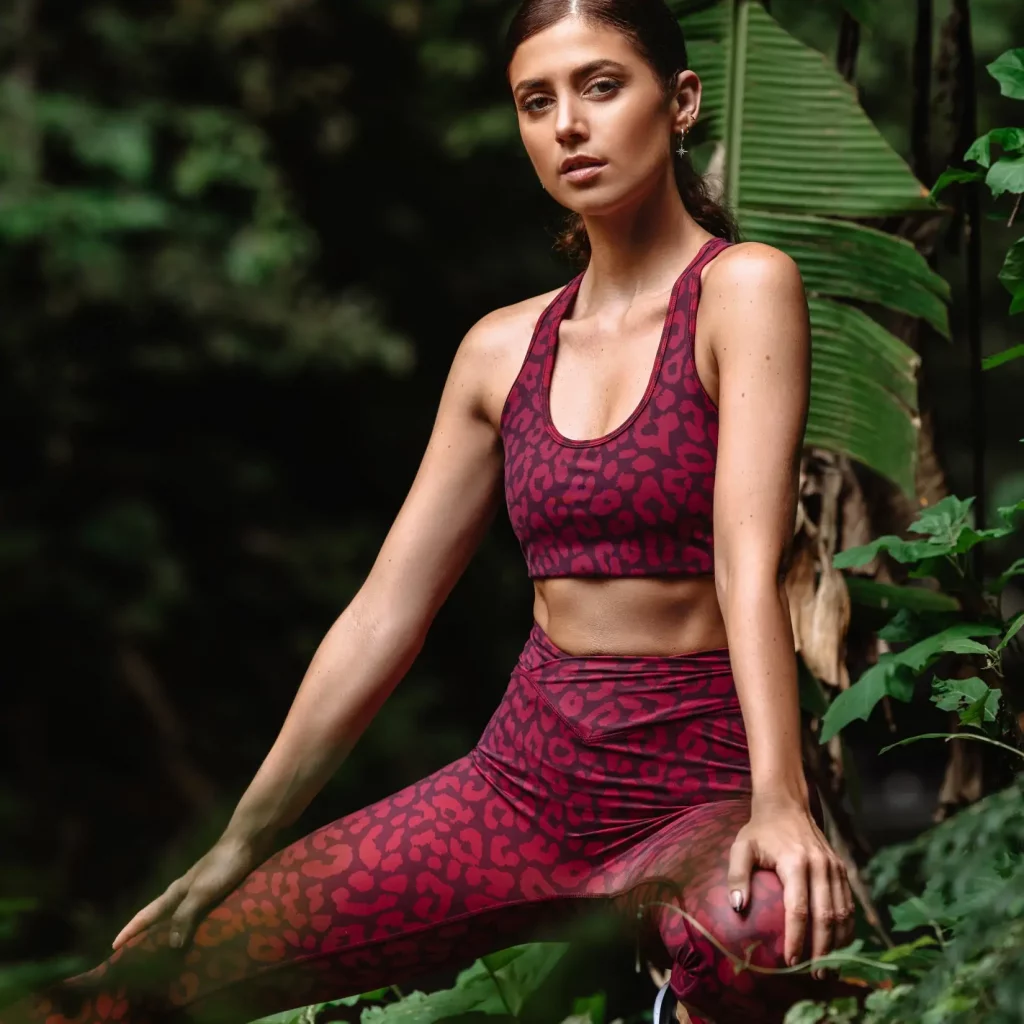 Our minimum order quantity is 300 articles (for example, 150 Leggings & Sports Tops sets) in ten designs, 30 per colour, three pieces per size & colour.
Each style can be produced in up to two fabrics & two colours, such as a reversible style with a printed front & any colour on the back.
The MOQ requesting three colours per style is 50 units per design, six pieces per size & colourway, & 500 units per PO.
Over three colourways or three fabrics per style. Info on request.
After receiving your samples and approval, you can place a bulk PO. Fill in a bulk order form, adding the totals per design based on fabric, colour, or print.
Upon receipt of your bulk order form, we will verify that the order amounts match our minimum order quantity (MOQ) and begin processing your bulk purchase order. If all is good, we require a 50% deposit to start and the balance paid before shipping overseas.
Once received, we order custom brandings, such as elasticated branded jacquard, packaging, fabrics, and prints.
It is not possible to cancel a deposit once received.
After receiving all fabrics and accessories, we cut your fabric, add your branded heat press, and move your order into production.
Top Tip
If you select custom colours, prints, or accessories, these must be ordered first. As importing can be time-consuming, ensure this is your highest priority when considering your fabrics, colours, prints & any branded accessories you want to add to your collection.
To reduce production time, many brands request prints or plains and branded accessories before placing a bulk PO, saving as much as six weeks in the production timeline.
In general, timelines in production when selecting to use our stock fabrics & colours are significantly less than wh and when requesting colours to be imported. Orders using stock colours normally are ready for dispatch in 4 to 6 weeks, & when selecting colours to be imported, it takes eight weeks or more as it can take six weeks for the fabrics to land before we can start production.
Custom prints usually take five weeks to arrive, and plain colours take six to eight weeks, depending on the supplier.
Please note
It takes longer to import fabrics from Carvico than from REPREVE.
We can add your brand name under the bust or around the waist produced on computerized knitting machines, such as Nike's "Just Do It" or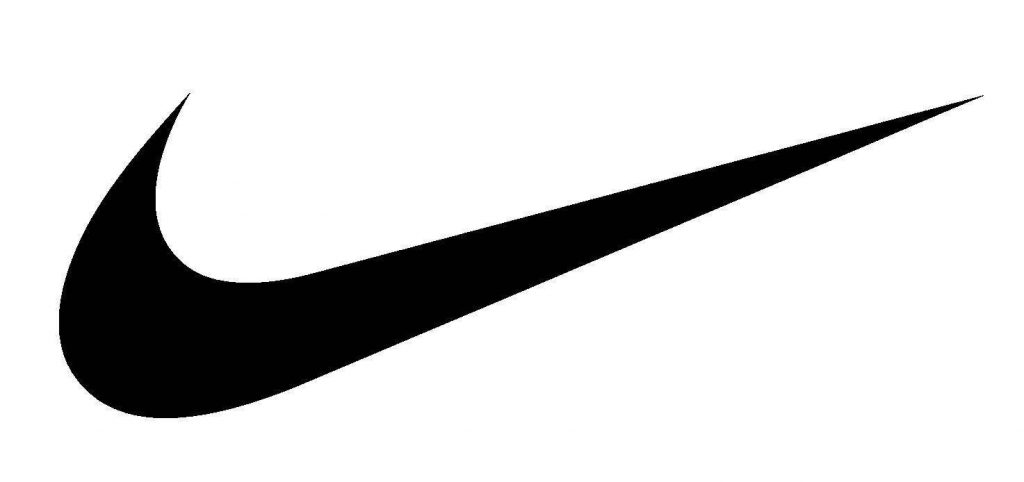 symbol, to replace conventional elastic with elasticated jacquard. This is a simple but extremely effective way of marketing your brand name & adding a special look to your collection.
Samples Approved - Let Us Begin
Once you're ready to place a bulk PO, your approved samples must be returned to us via courier unless you requested two sample sets. These will be used to check against the first cuts in production, adding courier fees & import taxes. 
However, should you have requested we produce two sets, one will remain in our office and be used to start your production order. As we only charge wholesale for the second set, making two sets in most cases costs approx the same as producing one, saving on courier fees and import taxes as well as a week in your production timeline.  
Visit our Delivery Page, to be clear on how to send packages.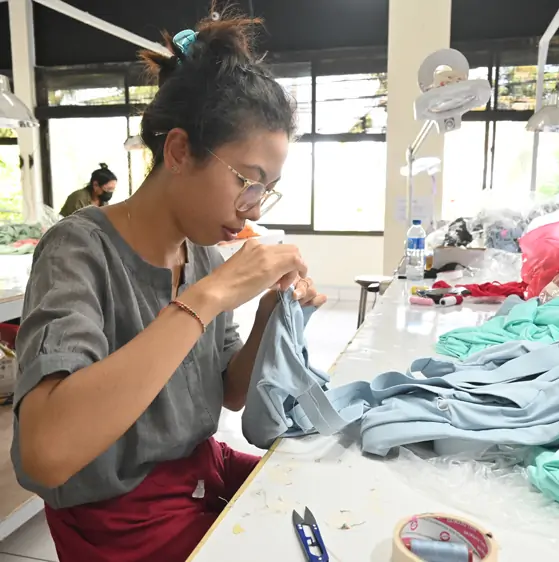 Before dispatch, all of our products undergo three levels of quality control. Only once all three checks have been performed do we add your branded fabric hang tags to each article based on the fabric used.
Then we add the code, size, and colour reference and pack each article individually into a biodegradable bag.
Even though we conduct extensive quality controls, many brands request independent quality control to be on the safe side. Considering the minimal cost involved in doing this compared to the value of the goods, this option is worth considering.
External QC
Rebecca Jane, a UK-based independent quality control expert, performs a final inspection on production orders for brands that request this service. If they discover a problem with your order, we can service or remake it before dispatching. She always works independently of us and reports directly to you, the client.
She has a degree in fashion and has designed collections for Victoria's Secret.
As we work with international body sizes, check our Size Guide to ensure our sizes fit the market you're selling into. 
Most sizing is based on young female sizes in California, Australia, Miami & Florida.
When you order fabrics from our stock or request fabrics to be imported under our Tax-Free license, we must provide the export documents & add the true value of the goods. We typically export using our company's DHL account. We must still provide the export documents if you request to use your own cargo company or courier account.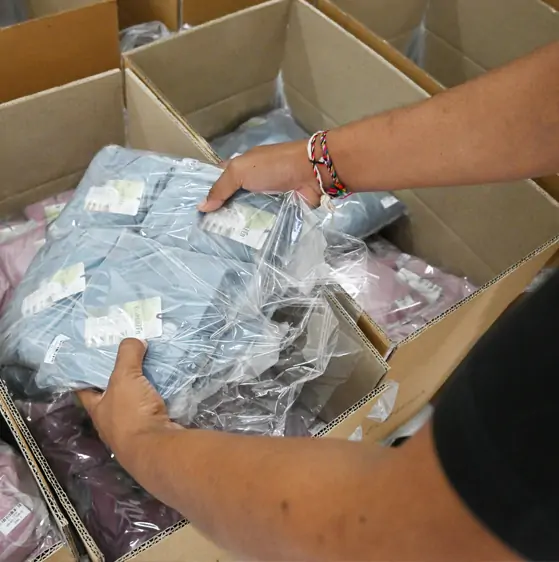 All orders are individually packed into bio-degradable bags by codes, colours & sizes, ready to sell as soon as they land on your doorstep. 
Orders are dispatched via DHL or FedEx using our company account or yours. 
Allow 3-5 working days from pickup to delivery to your door.working days.