We produce custom-made activewear collections for more than 20 international brands a month, adding imported high-quality, sustainable fabrics in both plains & digital prints.
Our sample studio runs a team of 50 personnel, including pattern makers, tailors, merchants, and assistants, dispatched from start to finish in approx. 2-4 weeks.
To understand how we produce custom-made bulk orders, go here
If you haven't already done so, the first step is to price your collection. Once done, whenever you're ready, you'll be able to get started into your own iconic sustainable activewear collection.
The majority of sample collections are produced in either small or medium sizes.
Once samples are complete & prior to dispatch, we send photos of your styles, allowing you to clearly see what your designs look like in your selected colours & or prints.
With your samples in hand, you may request a free call back
Don't forget that collecting quotes is a great way to compare our prices with any other Bali Active manufacturer.
We charge two times our estimated price, plus a USD 30 management fee per style, all-inclusive to the finished articles, including one heat press logo.
For example, a legging priced at $19 USD, is charged at 2 X $19 + $ 30 = $68.00.
Top Tip
It's recommended requesting we produce two sample sets. The second set is only charged at one time the estimated price with no management fee, making the costs to send back your approved samples unnecessary.
DIGITAL PATTERNS & SIZE GUIDE
Patterns are created digitally using 2D AutoCAD software, far more accurate than traditional paper patterns.
Working digitally allows us to make incremental almost instantly as well as grade up or down a full or half size on request.
We strongly advise that you take the time to check our size guide to ensure they fit the market you're selling into. Skip this step & find your samples are too large or small; remakes are chargeable.
If the samples we produce are clearly different from your handover, in most cases, remakes are free of charge. 
Some brands consider our sizes to be on the small side, so do check.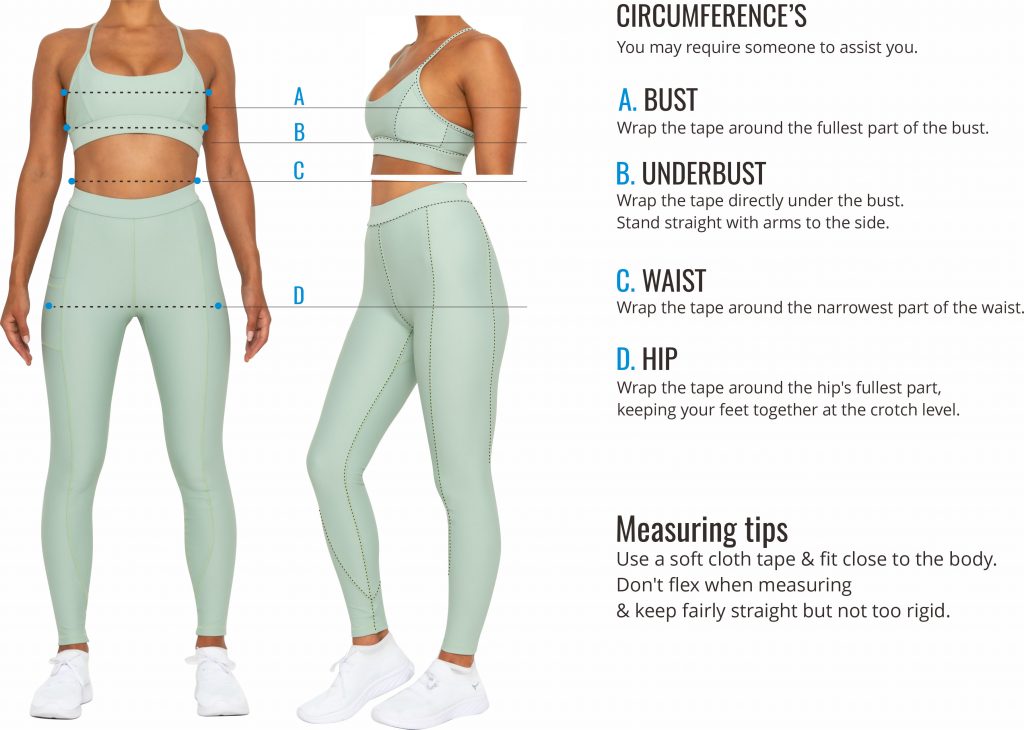 The 2023 Activewear Ready to Order Collection was assembled using our best-selling shapes & our knowledge of what's trending well into Spring 2023. Any style can be produced in any fabric, colour, or print and be altered, for instance, making the waistbands higher/lower, adding pockets or mesh lining, etc. If you're seeking inspiration, see our
video
of some of the styles shot on the models &/or download the Catalogue inc prices 
here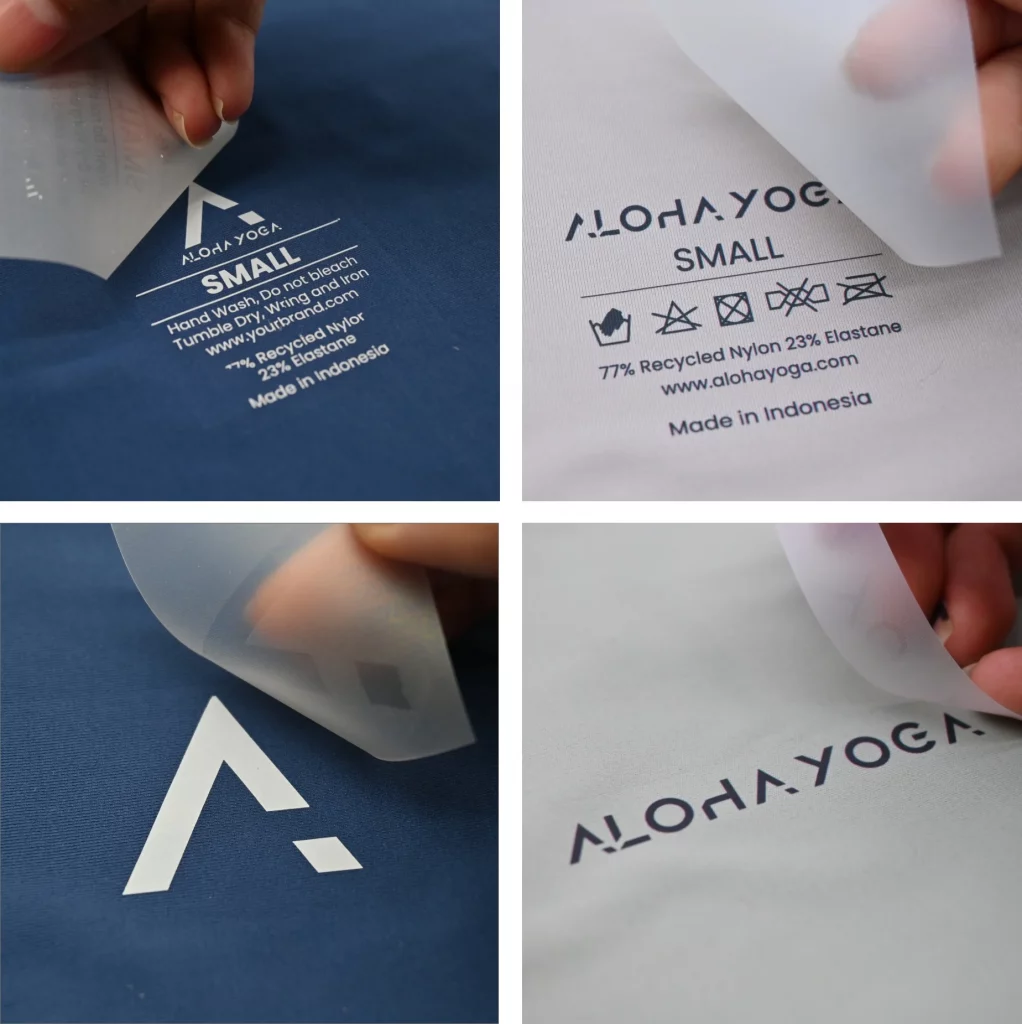 Samples heat presses are only available in black and white using our in-house printer for size & placement approval only. When it comes to bulk orders, we import using higher-grade machines in any colour on request.
We then mock up your artwork on your designs to be sent back for your approval.
Read more on Branding & Accessories.
Once you have made payment, we mock up your Collection free of charge.
Visualizing your designs in the colours &/or prints in virtual 2D gives you a much better idea of what your final Collection looks like.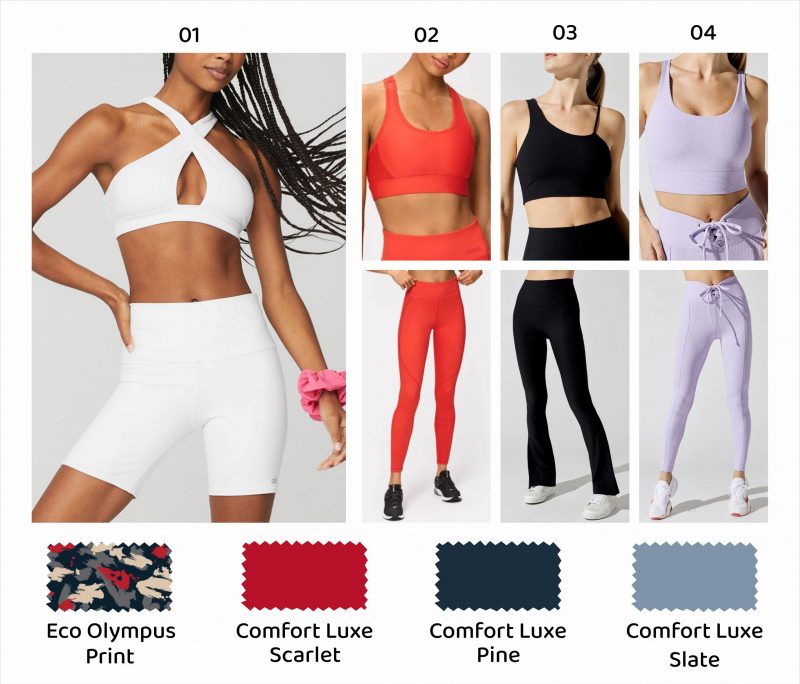 ABOVE HANDOVER, MOCKED-UP BELOW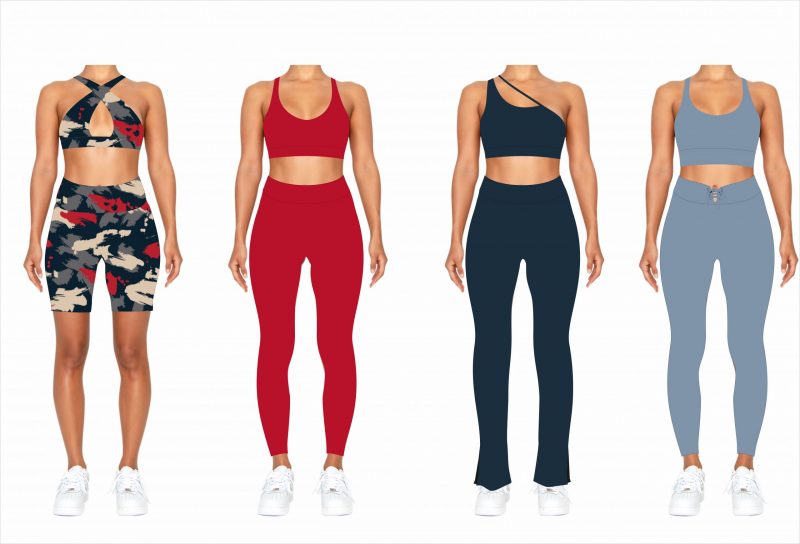 To see a full mock-up branded in more detail, go here
We dispatch your samples via FedEx or DHL. They both daily at our office, picking up packages. Allow 4-7 days to your door.
Read More about overseas deliveries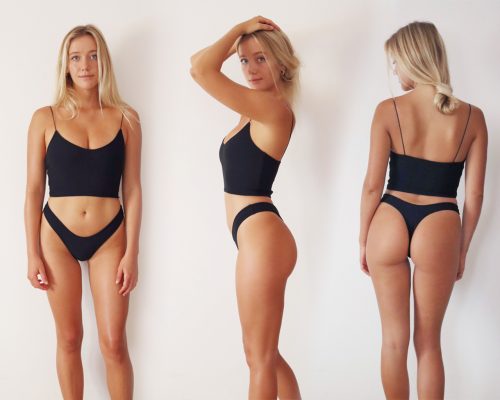 An experienced fit model comes to our office to fit customer samples through a video call, with your merchant present to take notes, enabling us to resolve any issues prior to pick up by DHL. Money well spent!
Cost – USD 85 for 30 minutes.
Contact your merchant or her agency to schedule a fitting.